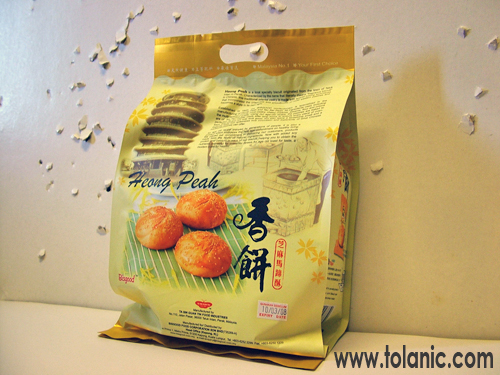 This is the best biscuit that I ever eat since I was small. The old packaging is in pink color. Now, they already re-brand the packaging and make it look more interesting and more informative. The new packaging makes the biscuit can last long and fresh than the old packaging. So, the taste is still there like just take out freshly from the oven. The most important thing about this biscuit is Halal and animal-fat free. This is the only brand of Heong Peah biscuit that Muslim can eat. Cheers to them because made it as Halal food.
About Heong Peah
"Heong Peah is a local specialty biscuit originated from the town of Teluk Intan in Perak. Characterized by the name that literally means "fragrance biscuit" in Chinese, this traditional oriental pastry is made with special baking techniques that incorporates the crispiness and smoothness of most western pastries and becomes a style in its own right.
Established in 1949, the BISGOOD confectionery is specialized in the manufacturing of Heong Peah and Tau Sar Peah. All ingredients used, including the multi-layered crunchy crust pastry, chewy maltose, sesame, flour and onions are of the highest quality. Using our age-old recipe, the pastries are baked to perfection by our master chefs after long hours to ensure every piece of oven-fresh final product not only look good, but also leave a tantalizing smell and a lingering taste that epitomizes true innovation and superiority of what Chinese traditional pastries can offer.
An age old recipe enjoyed by generations of people, it is also a product which embraces the new age commitment on healthy living. We placed our commitment in delivering our customers, products made from the finest of natural ingredients. Now with added soy protein and calcium in each of our biscuit, helping you to obtain the nutrients you need for everyday fitness. An age old toast for a taste, a modern toast for health!"

Related posts: