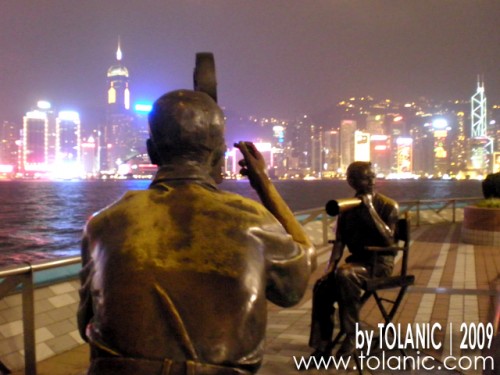 Camera rolling! 3~ 2~ 1~. Action!
December 26, 2008 (07:05pm)
After 2 hours I reached Hong Kong, I spent my time hang around and relaxing at the Avenue of Stars which is not far from Harbour City and Star Ferry at Tsim Sha Tsui. While I hang around at Bruce Lee statue, suddenly I heard few peoples shouting very loud in Cantonese just few meters from me. After a while, they start punching on each others. At first, I thought it just a street show to create a gimmick to attract the tourists since it was happen just few meters from Bruce Lee statue. Amazingly, in less than 2 minutes, both of the bad guys get pinned down by the undercover cops. One of the cops is a pretty young girl who is wearing normal civilian clothes. Few minutes later, few security officers and cops came for backup and both of them finally get arrested. That time only I realize it is a real fight.
Too bad, I haven't record the whole scene because I was too shocked. I only record after the fighting scene. I hope you enjoy the video.

Sorry because of very bad camera angle. It's due to police officers was controlling the area and taking pictures are not allowed.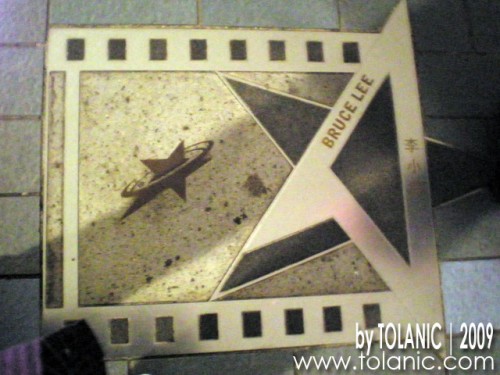 Bruce Lee signature on the floor.
Details:
Location: Avenue of Stars, Tsim Sha Tsui, Kowloon, Hong Kong
Date: December 26, 2008
Time: 07:05pm
Camera: Olympus
Status: Amatuer
Reference:
3 in court over false credit cards, passports
Related posts: